For a quick and easy room revamp, looking at changing up your walls is a great idea. However, if you think there's only paint and wallpaper to choose from, prepare to have your mind blown! 
There are so many incredible wall materials, coverings and finishes out there that you never have to think your home design is a little boring ever again. And because there's so much variety, we know you'll love at least one of these suggestions!
We took a look at what forward-thinking interior designers have been working with so, if you're prepared for some out there ideas, let's take a look…
1. White and green should always be seen if they are stone and living wall combinations like this!
2. Chunky wood panelling looks incredible. The uneven finish adds a distinctly contemporary vibe
3. If you love wood but prefer delicate proportions, this striated wall effect will be right up your street
4. The contrast of perfectly smooth white walls and rugged stone fireplace here is tantalising
5. Exposed red brick walls will never go out of style because they look fantastic anywhere!
6. A truly eye-catching and different installation, this tactile metal wall covering is inspiring
7. Mixing rustic stone finishes together will guarantee you a warm home with a heritage feel and contemporary edge
8. Size does matter, as the large blocks and granite pieces here prove. The grey hues offer such industrial, masculine vibes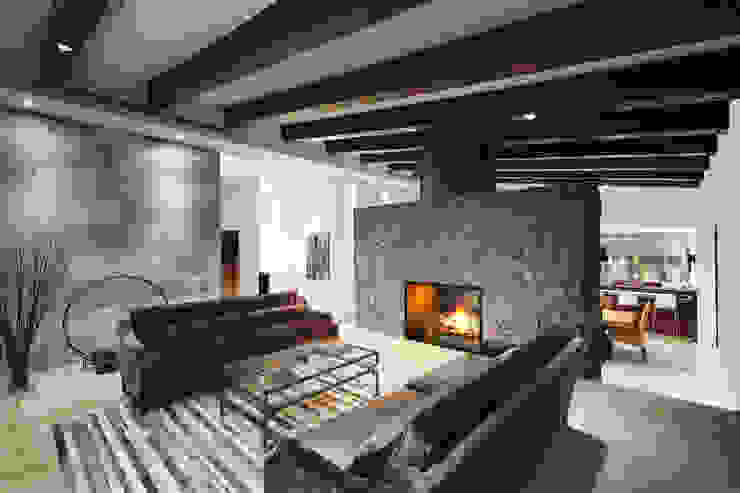 Sala y nueva chimenea de leña
Juan Luis Fernández Arquitecto
9. Tiles don't have to be relegated to kitchens and bathrooms, especially when they look this gorgeous. The metallic finish here is stunning
10. Fast becoming one of the most popular finishes around, polished concrete walls add a level of undeniable chic to any room
11. For walls so pretty you can't resist touching them, a pebble finish is utterly ideal. We think this would be incredible in a bathroom!
12. The softness of wood contrasting with the rugged feel of brick is a heavenly combination and, with similarly deep tones, makes for a beautiful home